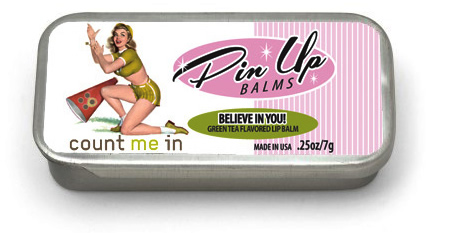 Pin-Up Lip Balm has created a limited edition "Believe in You" lip balm for Count Me In - the Organization for Women's Economic Independence.
The Shefinds.com promotion benefits the Count Me In organization, the leading not-for-profit provider of resources, education, and support to enable women entrepreneurs of geographically and ethnically diverse backgrounds to start and grow their business.

Believe in You - $5.00

Make A Difference Support Women's Economic Independence
100% of the Net Proceeds from Every Believe in You Sold will go to Count Me In.

The "Believe in You" lip balm will be featured on SheFinds, the online shopping site.

So shop now and support women's economic independence.
These Pin-Up Believe in You Lip Balm was been custom designed to feature the official "Count Me In" colors and logo. We are cheering on Women's Economic Independence because we "believe" in the vision.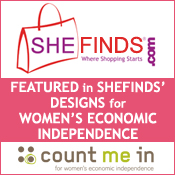 The Believe in You Pin Up Lip Balm features our all-natural formula which includes:
avocado oil (an organic UV protectant)
beeswax (a natural emollient)
apricot kernel oil (great for hydration)
Vitamin E (a natural antioxidant)

and


our Green Tea extract, our flavoring choice for this balm.
Remember it's not a hand out but a hand up.
Pin Up Balm Releases Limited Edition Lip Balm