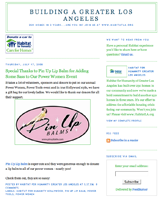 The Hollywood Habitat for Humanity held its 4th annual Power Women Power Tools on July 18th & 19th. The ladies traded in heels for hammers and set out to build 3 homes in the City of Lynwood. "Habitat for Humanity has always held special place in my heart, even moreso with the recent devastation of Hurricane Katrina in New Orleans," says owner Henriette Burbank.
"My husband is a New Orleans native and our family in New Orleans lost everything, I mean everything." Through it all, there is faith, and there is strength, and no one exemplifies this more than our 87-year old Maw Maw, Mrs. Lydia Cecile Broyard who has chosen to rebuild.
I know what the devoted, selfless volunteers that donate their time in service of Habitat for Humanity have done for the communities in and around New Orleans.  Being a gift bag sponsor came easy.  There was no question or doubt that if I couldn't pick up a hammer and join them, I was going to do something.  In French we say, L'union fait la force - and that couldn't be more true of the spirit of Habitat for Humanity.
No Comments :(